Wadesboro has a new town manager — at least temporarily — following the departure of Alex Sewell.
Ray Allen started the job Jan. 26 and was recommended by NFocus Inc., a North Carolina firm specializing in management consulting and provides interim town managers to local governments.
Allen, who holds a bachelor's degree in history and political science, as well as a Master of Public Administration degree from UNC-Chapel Hill, served as Albemarle's city manager for 28 years before retiring in 2015.
"My primary goal is to keep all operations and projects on track during my tenure so that the town does not lose any progress between managers," Allen said.
He will also be working on beginning the process for the FY 2018-2019 budget, so that when a new manager comes, he or she will not behind, as well as reviewing applications for the town manager position, and assisting the mayor and town Council in the process to appoint a new manager.
Allen will be working with the town two to four days per week, and will be attending all council meetings.
"I will be having regular meetings with town staff to review operations and projects, and will be available to them to answer questions and make decisions about day-to-day operations," he said.
"I am happy to have this opportunity to work with the town of Wadesboro," Allen said. "The mayor, town council, town staff and the citizens I have met have made me feel very welcome, and Wadesboro is an attractive, friendly, historic community with a lot to offer.
"Like most rural North Carolina communities, it faces serious economic challenges," he added, "but the town is committed to trying to provide opportunities to its citizens."
Financial challenges due to the Great Recession were also Sewell's major hurdles when he came to Wadesboro in 2013 at the age of 28, after serving as assistant to the town manager in Apex.
Sewell, who began work as the town manager of Stallings on Monday, said he will miss the people of Wadesboro.
"I developed a number of dear friends and will miss them greatly," he said in an email Tuesday morning.
Sewell's greatest accomplishments during his five years at the helm: "Working together as a team (the council, staff and community), our community was able to significantly improve the town's financial situation after numerous years of operating deficits, achieve the town council's top strategic goals of a new fire station and a new home for the police department, receive the GFOA Distinguished Budget Presentation Award, increase trash collection efficiency by 33 percent through the implementation of automated trash pickup service, upgrade the fire district inusrance rating, develop and implement a Capital Improvement Program, and establish the town's first buisness park."
Sewell said the credit for those accomplishments go to the town's council, staff and the community.
"I'm grateful for the opportunity to participate and contribute in very small way," he said.
As for advice to his sucessor, Sewell urges the future manager "to be an active member of the community, to listen, to always show respect and compassion to others, to work at building relationships, and to be a purdent finanical steward."
William R. Toler contributed to this story.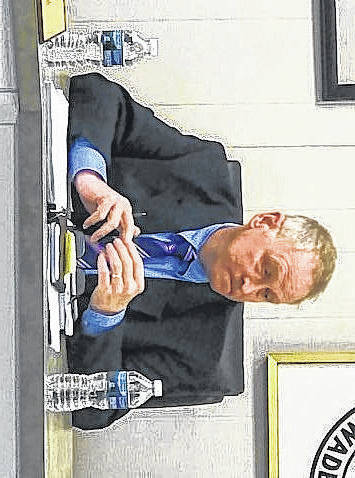 Natalie Davis | Anson Record Ray Allen will serve as interim town manager for Wadesboro until a permanent candidate is hired. Alex Sewell started this week as town manager of Stallings after spending the past five years in Wadesboro.