Several deputies with the Anson County Sheriff's Office were recently honored for going above and beyond the call of duty.
Chief Deputy Scott Howell was presented with the Sheriff Award.
Howell and other deputies were dispatched to search for a missing toddler Oct. 30 on Traywick Road in Peachland. During the search, Howell heard what sounded like a child crying in an area off of Edwards Store Road.
Following the sound, Howell found the 3-year-old standing waist-deep in a pond and immediately went in to rescue him. The child treated at the scene and released back to his family.
"Chief Howell's compassion for the citizens of Anson County and quick actions prevented this situation from becoming a tragic event," said Sheriff Landric Reid.
Three other deputies were presented with officers' awards: Sgt. Vance Bennett, detention Sgt. James Babcock and telecommunicator Monique Johnson.
"These individuals represent professionalism, dedication and perseverance," Reid said. "These honorees have gone above and beyond their job expectations.
"The Anson County Sheriff's Office is privileged to have these exceptional employees representing Anson County," he added.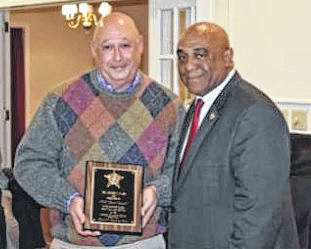 Chief Deputy Scott Howell stands with Anson County Sheriff Landric Reid after receiving the Sheriff Award.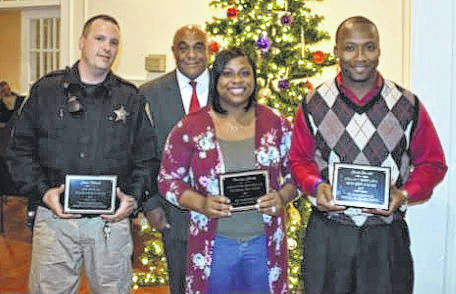 Detention Sgt. James Babcock, left, telecommunicator Monique Johnson and Sgt. Vance Bennett hold their awards.